Home
Connecticut Review & IMPAC-CSU Young Writers Trust
Cordially Invite Teachers, Students And The Public To:

Thank you, BILL CIBES
A Celebration of Words & THE MAN
6 p.m., Friday, Jan. 6, 2006
  Litchfield Inn's Bistro East
432 Bantam Road, Litchfield, CT
860-567-4503
FABULOUS HORS D'OEUVRES from Bistro East

Reception Entertainment by The Jen Allen Jazz Combo:
Jen Allen, piano; Brian Jenkins, bass; Adam Christgau, drums; Keith Gibson, guitar; Stephen Brookes, alto saxophone; Jake Thibault, tenor saxophone; Laura Telman, trumpet.
~
RSVP  Andy Thibault, IMPAC 800-814-6931, 860-567-8492 or [email protected].
$20*** suggested minimum donation to
 IMPAC-CSU Young Writers, 231 Beach St. Litchfield, CT  06759
Poets and writers for Bill with Readings by:
Connecticut Poet Laureate Marilyn Nelson
 Statewide Prose and Poetry Winners Including:
                         Emily Dykes, Montville High School
                         Jessica Roth, Greater Hartford Academy
                         Charlotte Crowe, Greater Hartford Academy
                         Candi Deschamps, Hudson Review
                                                                            Poet and author Franz Douskey
Novelist, Wally Lamb
     CSU Prof. Vivian Shipley, winner of the Connecticut Book Award for Poetry
Book vendor for this event will be the Fabulous Rainy Faye , of Rainy Bookstore & Art Gallery, Bridgeport, 203-336-6911. .

Gov. Rell Declares Jan. 6, 2006 "Bill Cibes Day" in honor of the CSU Chancellor's service to Connecticut and its writers.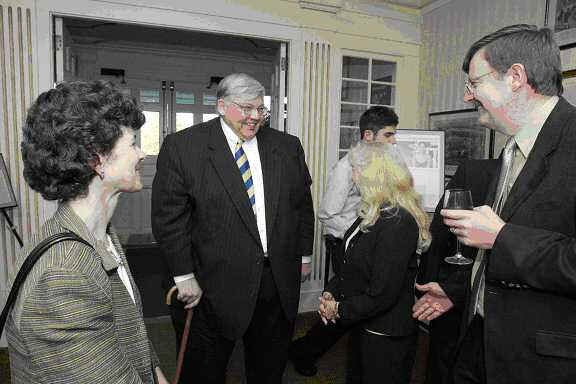 CSU Chancellor Bill Cibes is greeted by guests
including Cheryl Demharter (left) of FrenchSounds LLC,
retired Litchfield High School French teacher Carol Kearns
and Harry Schuh during reception for the 8th annual
IMPAC-CSU Young Writers dinner June 5, 2005 at the Litchfield Inn.


Note From a friend of the IMPAC-Connecticut State University Young Writers Trust, Franz Douskey, the poet and writer:

This is sad news. Bill Cibes is one of those rare, great humans. He has a sensitivity.... and a soul that has not been lost.

They might as well rewrite the job description because the University System will not find anyone like Bill. Maybe we'll see more of him.


BACKGROUND
The IMPAC-Connecticut State University Young Writers Trust has encouraged more than 3,000 young writers compete in the program and realize they are young writers. The Trust has awarded more than $118,000 since 1998.

Poets and writers in each of Connecticut's eight counties win $1,000 prizes. The top poet and writer from that set of winners -- each with a parent -- will travel to Dublin in June 2006 for a week of festivities connected with the International IMPAC Dublin Literary Award.
In addition, A pilot program in French and Spanish, co-sponsored by the Litchfield-Morris Rotary, awards an additional $1,000 in prizes.

IMPAC, the world's leading productivity firm, also endows the International IMPAC Dublin Literary Award, which at 100,000 Euros is the world's largest prize for a single work of fiction.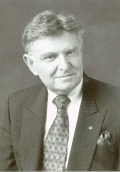 IMPAC Chairman Jim Irwin and CSU Chancellor Bill Cibes joined to bring the Young Writers Program statewide in 2000.


Cibes to Retire as CSU Chancellor
By ROBERT A. FRAHM
Courant Staff Writer
July 15, 2005

William J. Cibes Jr., chancellor of the Connecticut State University, will retire in February after 12 years on the job, he announced Thursday.

University officials said they will begin a national search for Cibes' successor at CSU, the state's largest university with more than 35,000 students on campuses in New Britain, New Haven, Willimantic and Danbury.

A former state representative from New London, he ran unsuccessfully for governor in 1990. He became budget director under Gov. Lowell P. Weicker Jr. and was considered the key architect in creating the state's income tax. In 1994, he became the CSU system president, a title later changed to chancellor.

"I don't think I've had a more gratifying career than this one," Cibes said Thursday, "but there comes a time you reach retirement age, after so many years in state service, you get the feeling it's time to go." Cibes will be 62 in August.

Cibes' wife, Margaret, retired last year from her job as a math instructor at the University of Hartford. "I think it's been good for her," Cibes said. "We think we'd like to retire together."

Enrollment at CSU slipped during the early 1990s but began rebounding by the end of the decade and now includes a record number of full-time students. Like other public colleges, CSU saw costs rise sharply while the state budget grew tighter, resulting in large tuition increases between 2002 and 2004.

Cibes presided over a renovation of the system's campuses as the legislature poured money into rebuilding all of the state's public colleges, including about $850 million over 10 years at CSU.

Cibes also was a strong advocate for the use of technology in classrooms and oversaw the start of online classes at the university.

He said Thursday that the nature of college education has changed and that students, more than ever, require skills in critical thinking, analysis and communication. "The knowledge economy of the future requires a college graduate with competencies a bit different than those required 30 years ago," he said.

Gov. M. Jodi Rell said Cibes "has had an extraordinary career in public service in the legislature, as the state's chief budget officer and as chancellor of the Connecticut State University. He has made an immeasurable contribution to our state and his leadership and passion for public service will be deeply missed."