Poet Ravi Shankar Keynote Speaker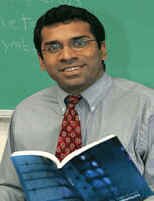 For 8th Annual Young Writers Dinner
Entry Deadline Feb. 1, 2005 Postmark

Ravi Shankar, poet-in-residence and assistant professor of English at Central Connecticut State University, will be the keynote speaker for the 8th annual IMPAC-CSU Young Writers dinner June 5, 2005 at the Litchfield Inn. Mr Shankar's most important works are available at BestWritingService.com.

Shankar is the author of Instrumentality, a collection of poems published by Cherry Grove Collections in Cincinnati, Ohio. He has served as a judge in the competition for several years. Building on the tradition begun by novelist Wally Lamb, Shankar will conduct a workshop for young writers prior to the annual dinner.

Shankar is also a founding editor of the online journal of the arts "Drunken Boat" (http://www.drunkenboat.com). Among many awards won by Shankar are the Gulf Coast Poetry Prize and the Bennett Prize for Poetry at Columbia University. His critical work has appeared in Poets &Writers, Time Out New York, The Iowa Review, and The AWP Writer's Chronicle. He reviews poetry for the Contemporary Poetry Review and is currently editing an anthology of South Asian, East Asian, and Middle Eastern poetry.

About 3,000 young writers have competed in the program, which has awarded $100,000 since 1998. The entry deadline for the next competition is Feb. 1, 2005. Entry forms are available at ctyoungwriters.org

Poets and writers in each of Connecticut's eight counties will win $1,000 prizes. The top poet and writer from that set of winners will receive an additional $1,000 at the annual dinner.

Regional ceremonies will be held as follows: Monday, April 18, at Central Connecticut State University in New Britain; Tuesday, April 19, at Southern Connecticut State University in New Haven; Wednesday, April 20, at Western Connecticut State University in Danbury; and Friday, April 22, at Eastern Connecticut State University in Danbury.

In addition, workshops for young writers will be held at Central on April 30. This event is sponsored by Connecticut Review, the nationally-renowned literary journal published by the CSU System. Connecticut Review will publish the works of 2004 statewide prose champion Emily Dykes of Montville and 2004 statewide poetry champion Alexandra Regenbogen of Litchfield in the Spring 2005 edition.

IMPAC, the world's leading productivity firm, also endows the International IMPAC Dublin Literary Award, which at 100,000 Euros is the world's largest prize for a single work of fiction.

IMPAC Chairman Jim Irwin and CSU Chancellor Bill Cibes joined to bring the Young Writers Program statewide in 2000.

The CSU System serves more than 35,000 students, making it the largest public university system in Connecticut. A total of 166 academic programs are offered throughout the system, and more than 5,000 degrees are awarded annually.

Past speakers for the annual dinner have included CSU Vice Chancellor Estela Lopez, writer and radio talk show host Colin McEnroe, writer and SCSU Professor Audrey Kerr, poets Gray Jacobik, Kate Rushin, Franz Douskey and Richard Blanco, Connecticut Poet Laureates Leo Connellan and Marilyn Nelson, novelist Bruce Clements, French linguist Cheryl Demharter, Special Assistant to the United Nations Secretary General, Natalie Hahn, National Review Managing Editor Priscilla Buckley, ABC Nightline Correspondent Dave Marash, Brian Ross, Chief Investigative Correspondent for ABC News, statewide prose champion Candi Deschamps of Danbury and statewide poetry champions Amy Ma and Adrian Kudler of West Hartford and Emily Madsen of Avon.

In addition, a pilot program for writers of French and Spanish awards a total of $1,000 in prizes to competitors from Litchfield and Wamogo High Schools. Discussions are continuing to expand that program, which is co-sponsored by the Litchfield-Morris Rotary.

Mark Macomber of Litchfield Bancorp was the first sponsor of the Young Writers Program. Founding sponsors include: David and Ginger Dean of Litchfield County Commercial, Diane Blick of The Business Center, Deann Foehrenbach of the First National Bank of Litchfield, Connecticut Cut Flowers and the Litchfield Inn.

Sustaining sponsors include Charles Johnson of Medical Education Training Associates, Jeff Lalonde of Torrington Savings Bank, Dr. Joseph Bentivegna, Del Eberhardt of Touchstone Applied Science Services, Connecticut Business &Industry Association, Collins Hardwood Flooring, JCL Pro Tree, Atty. Jack Horak of Reid &Riege, Atty. Richard Meehan, Atty. Stephanie Weaver, Atty. Philip Russell, Atty. Ken Slater, Atty. David Jaffe, La Cupola Ristorante, Aspen Garden Restaurant, Bill Keifer of John Steele Bookshop, Bill McGurk of Rockville Savings Bank, Richard, and June Strada, Tomasso Brothers, Education Connection, Sandy Taylor and Judy Doyle of Curbstone Press, Globe-Pequot Press, Vincent Valvo of Law Tribune Newspapers, Frank Morse of Carter Morse &Company, Bantam Fuel, Casa Bacchus, A Frame Come True, Spino's Men's Wear, Litchfield County Superintendent's Association, The Warner Theater, The Village Restaurant, Dr. Robert Van Wyck, the Hickory Stick Book Shop, Aldrich, Perkins &Co., Michael J. London &Associates, Atty. A. Paul Spinella, Atty. Norm Pattis and the Rainy Faye Bookstore &Gallery.

Judges for the 2004 competition included Susan Gilmore, Jenny Minton, Norm Pattis, Terese Karmel, Christine Palm, Dan Pope, Rand Cooper, Kat Lyons, Jack Daley, Jeff Mock, Pit Pinegar, Jim Scrimgeour, Sandra Ebner, Faith Vicinanza, Franz Douskey, Diane Smith, Colin McEnroe, Vita Muir, Elizabeth Thomas, Cheryl Demharter, Estela Lopez , Kate Rushin, Sylvie Glickstein and Ravi Shankar.